Compare the Latest 4 Cuisinart Electric Kettles 2023
List of the latest Cuisinart electric kettles in the order in which they were added to our database (To compare any of the 4 models, just click their Add to compare button):


Advertising disclosure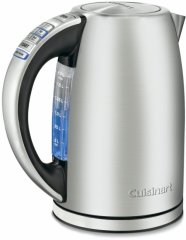 Cuisinart CPK-17
1.7-liter cordless kettle with a one-touch control panel in its stay-cool handle and a memory that remembers your last temperature setting.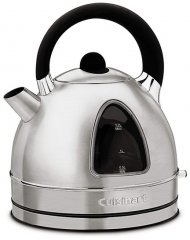 Cuisinart DK-17
This kettle looks like a stovetop model, but it packs 1500 watts of power, a BPA-free water chamber and a sizable water level porthole.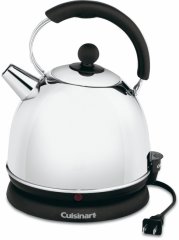 Cuisinart KUA-17
BPA-free 1.7-Liter automatic cordless kettle with 1500 watts of power.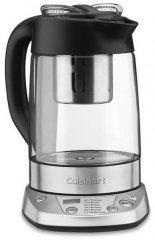 Cuisinart TEA-100
Water kettle and tea steeper with 6 temperature presets and a 2-minute lift-off memory function
You Should Also Check Out...