* Black Friday Deals Are There. Our lists are based on quality only, but you will see many items on sale today.
Our Top 3 Best Tribest Blenders (As Of November 2022) for Canada, Based On 100s Of Reviews
Here are the latest Tribest blenders in chronological order (newest blenders first) (To compare any of the 7 models, just click their Add to compare button):


Advertising disclosure


Best Model 2022
Alpha
Rank:
#1
Our
Score:
7.7/10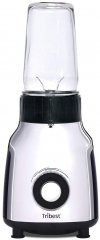 The Three Latest Tribest Glass-jar Blenders (as Of November, 2022)
Three Recent Smoothie-maker Tribest Blender Models

Small blender with two modes (pulse and blend/grind), two blade assemblies, and two BPA-free containers (blending and grinding).
Other models...
You Should Also Check Out...